Many of our previous volunteers have written up their experiences of volunteering in Bolivia with Up Close Bolivia. Read about their time working on the different projects here and from the following blogs below:
Constanca, Portugal
Inspiring people, beautiful place… I can't wait to go back. They support a lot of activities​ that improve the life of the people in Mallasa and it's truly amazing to see everything happening and feel a part of it, even for a short period of time. I miss Up Close everyday since I went there!
The Zehnder Family from Canada
"Our family of six were welcomed with overwhelming hospitality by the Mendozas and other Up Close Bolivia volunteers. It was a privilege to see first hand the impact this organization has had on their community working with various vulnerable populations. We enjoyed being a part of the community and getting to know local people. We felt very well supported with an excellent orientation and help in whatever we needed. Their kind loving spirits also welcomed my Mother who was visiting over Christmas. There were many opportunities to serve on various projects and we were so grateful for their willingness to host our entire family. I am sure we gained more than we contributed".
Michael Higginbottom, UK: Michael's blog about volunteering with Up Close
"I had an amazing time from start to finish when I volunteered with Up Close in 2016.
They support lots of different projects in the local communities, with plenty to keep you as busy as you can handle! I spread my time across 4 projects and the equine therapy was my favourite (contact with the horses not required). Everyone I met was friendly and welcoming, especially the host family, and the accommodation for the volunteers was perfect. Coming from the UK (more specifically London) the family/small-community vibe was a welcome change and I look forward to returning in the not too distant future!
If you're thinking about volunteering here, go for it, I can't recommend them highly enough."

Julia DeBald, USA
"I cannot say enough good things about this organization! The UpClose community is so welcoming and truly cares about the projects they are involved in. I formed so many wonderful relationships through UpClose and only have fond memories of my time with them. All of the projects are so unique and special in their own way. If you want to be part of the lives of some of the most amazing children I have had the pleasure of knowing, this is the place for you! You will truly have an unforgettable experience. I feel so blessed to have been part of a group that gives volunteers a place to call home even after they leave. Because of them, Bolivia will always hold a special place in my heart."
Anna Mul
cahy, UK
"I spent over four months living and working in the paradise that is UpClose Bolivia and I couldn't recommend it more. You will learn, have fun and meet all kinds of amazing people. Best of all you will be really making a real impact on communities in La Paz and you'll do and achieve things you never thought you could!"
Marie de Meulder, Belgium
"I cannot think of a single reason not to recommend this amazing organisation. While volunteering for Up Close, you really feel you're making a difference for the local community. Whether you're helping out in the zoo, in the children's home or (my personal favourite) at the horse therapy centre, the gratefulness of the local people truly warms your heart. This all wouldn't be possible without the amazing Mendoza family making their home your home and Justa trying her very best to manage the crazy bunch of volunteers. All in all an unforgettable experience, so grateful I got to volunteer with you!!"
Catherine Kelly, Scotland
"Up Close becomes a second home once you've been there! I had the most amazing three months volunteering in Jupapina and Emma, Rolando, David and Bell make every volunteer feel part of their family. There are several amazing projects which allow you to have a varied week working in the community, my favourite was teaching English in Jupapina school which was so much fun! The setting is beautiful, houses are so homely and still pretty close to central La Paz. Amazing experience!!"
Peyton O'Donnell, Australia
"What can I say…. the place, the people.. everything was and continues to be so so special. I was so nervous when I first arrived in Jupapina, but the three months I spent with Upclose was life changing and one of the greatest experiences of my life. The Upclose family are so passionate, kind and loving and hold the dearest place in my heart for not only everything they have done for me, but what they continue to give selflessy to the community. You will never feel unsafe or unwelcome or unheard. If you want to make an impact on others, immerse yourself in a rich and vibrant culture and explore the inner workings of your own potential and soul – UpClose is definitely the place for you. I wish I could give more stars. Thank you so much UpClose – 6 months on and I still miss Jupapina more everyday."
Songwriter, Lucy Hornschurch from USA
Read her blog about creating a Music Garden and Composing a song with the children of the Valley of the Moon Nursery
Nathalie and Tim from UK
Read their blogs:
#potd: A day's work in La Paz…painting a wall!
Equine Therapy in an Urban Setting – in La Paz!?
Jamie Faulkner, New Zealand

"Up Close Bolivia is set in the breath-takingly beautiful , Jupapiña. They are incredible people who are really well organised and good at managing the volunteers time as well as fun activities! There are great opportunities to help and to learn. Bolivia is a truly amazing country and the people have retained their vibrant and fascinating culture!"
Rosanna, UK: Blog Volunteering with Up Close Bolivia

"To be part of this close-knit community of volunteers and locals has been a really wonderful experience and we're so happy we found Up Close for this opportunity".
Alison Bell from Canada
Blog: Kitchen Stories- Maxima and Maria

Blog: An Invernadero for the Valley of the Moon Children's Centre
"After
thirty years of working as a chef, almost twenty of those years teaching professional cooking, I was humbled- and forced to rethink some of the "professional" skills I had been teaching- by these women every day. "
Gavin and Aisling, UK
Blog: Volunteering part 1 – Dead monkeys and shy students
Blog:olunteering part 2 – Up Close Bolivia
"The teaching experience was without doubt the highlight of our time volunteering, and was a great taster for us that left us wanting more."

Capella, UK 
Emma, Rolando, Anahi and the other volunteers were great and so helpful they really made me feel like part of the family."
Kav, UK:
Blog: Volunteering at Up Close Bolivia – An Insightful and unique experience
"As I write this I feel incredibly nostalgic, I would recommend Up Close to anyone who wants to challenge themselves, while also making a positive contribution to a vibrant and friendly community. I was deeply inspired by Emma and Rolando's commitment and thoughtfulness, and I hope to return in the future."
Lily's Testimony, UK
Interview: When you volunteer with Up Close Bolivia with Up Close Bolivia you see hope and love everywhere
"You see hope and love everywhere, in the friendliness and open arms of the community, your fellow volunteers, the mothers at the infant school, the family's down with the horses and the kids that are the centre of all the projects. Hope for the future, for a better life, for learning and experiencing new things."
Courtney's Testimony from Australia: Getting her claws into Bolivia
"I took an activity on the first day with two half blown up soccer balls but they had an absolute blast because all they wanted to do was play football."
Anton's Blog from Denmark: Bolivia- UP CLOSE!!
"The time spent here has been amazing, peaceful and truly memorable. Rolando, Emma, David, Bell and everyone else that made our time here special."
Claire's Blog: A Haven outside La Paz

Florie from France:
Blog: Volunteering program next to La Paz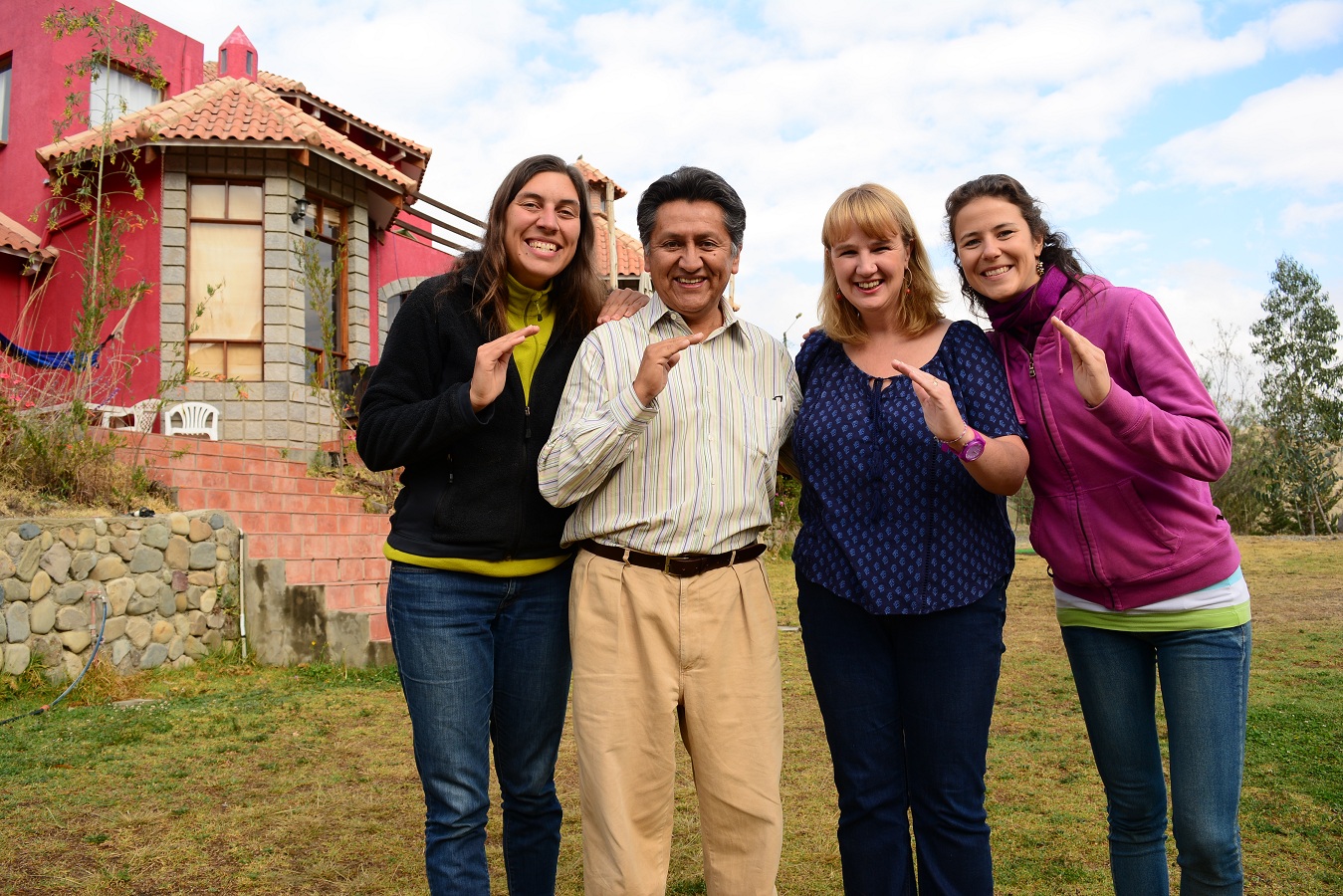 "This anglo-bolivian couple developed during these last twenty years a great volunteering project in order to support seven different initiatives of social responsability and local development."
Steph from UK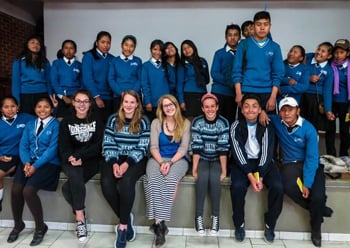 "Working with Up Close Bolivia really confirmed my desire to work in education, and probably in an international field."
Rochelle and Don from USA:
"Any concerns we had turned out to be completely unfounded, for never have we been greeted as generously or joyfully as we were by the Mendoza family."

Izzy  from UK

Blog: Muchisimas gracias a todos
Blog: Supporting community based ecotourism
"I t
ruly fell in love with the scenery, traditions, colour, vibrancy and values of Bolivia and all of the people I met. I have so many memories and friends that will stay in my heart forever."